Everyone wants the

best possible offer

from their bidders.
Interested in a shortcut?
Introducing
Fluenta Auction
Have your suppliers compete to achieve more savings with our auction module!
The Fluenta Auction module is an easy-to-use auction platform that enables our customers have suppliers bid and compete in real time through a secure, closed system, in a fair-play environment, to improve their business results by achieving the best possible price–value ratio.
Who do we recommend it to?
The Fluenta Auction online auction software offers a simple solution for companies looking to increase efficiency, save costs and achieve more transparent procurement processes.
The module is particularly useful for medium-sized and larger businesses that have a large number of suppliers and want to reduce the cost of their purchasing processes and increase their savings or realized profits in a selling auction.
Main benefits of the Fluenta
Auction module:
secure, closed, audited digital auction system,

ensuring fair-play supplier competition,

live monitoring of the price competition,

excellent customer support for suppliers as well.
Why choose Fluenta Auction?

Up and running in 2 hours
Implementation doesn't have to be tedious! We guarantee being ready in 2 hours or even less.

Live tutorials or on‑demand training
We will teach you how to use our system during implementation – through live training sessions, or with on-demand materials.

Create new auctions with a few clicks
Create templates with our wizard and then copy, duplicate or edit your electronic auctions easily.

Practice without any risk
Free practice option for both you and your bidders before things get serious.

Several auction types and rules

Plentiful documentation
Get full transparency with our well-documented logging system.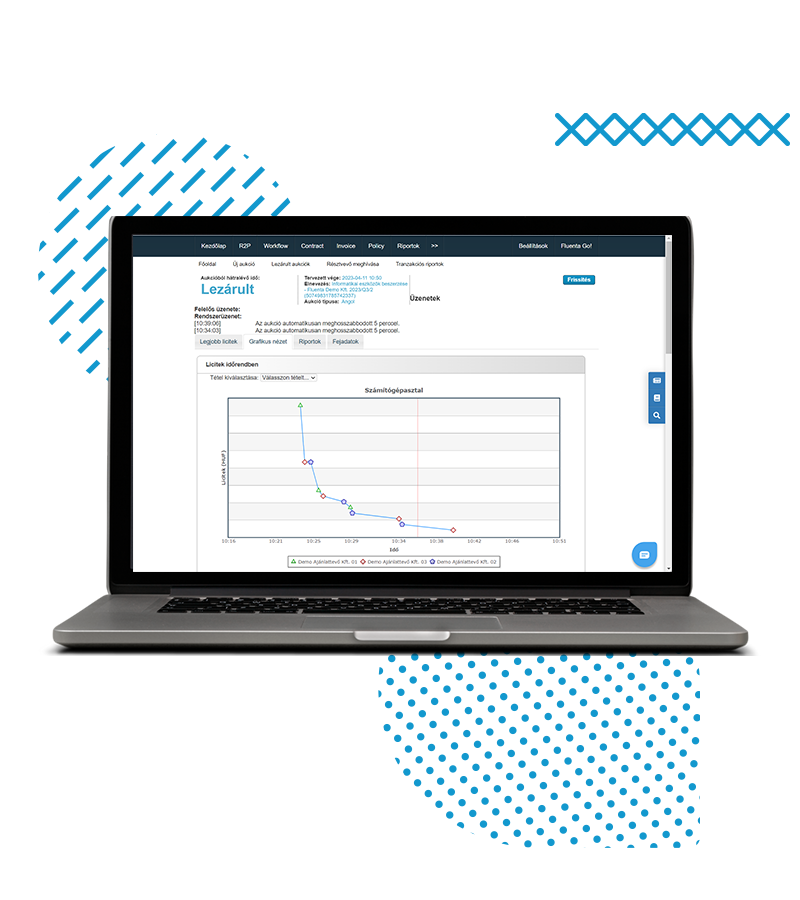 E-auction: you would rather leave it to the experts?
If you want to play it safe, we gladly take on the complete process of organizing your electronic auctions as part of our professional services. In this case, you can simply watch the auction without having to actively manage it, while our team takes care of all the important tasks: from preparing an auction tailored to your needs, through notifying and instructing the participants, to delivering the audited auction minutes. Contact our team for details.
What to know about
Fluenta Auction
"We've been using Fluenta's Auction and Sourcing modules for years and we're very satisfied with them. We like the fact that the system is simple and quick to use and easy to learn for new colleagues."

Péter Szabó

Global Category Manager, E.ON Gazdasági Szolgáltató Ltd.



"The implementation at our company was smooth and quick, and we have received all necessary support from the Customer Success team."

Anna Fritz-Körmendi

Procurement manager, MAVIR Ltd.

"Fluenta is the first procurement support software we've ever used. We decided to implement the Sourcing and Auction modules to make it easier to stay in contact with our suppliers, replace telephone and email negotiations, and manage our tendering processes in a transparent and controllable online system."

Levente Fekete

Procurement director, Univer Product Ltd.



"Customer-friendly, knowledgeable, expert team."

Péter Kurali

Director of purchasing, BIS Hungary Ltd.